Rayotek
Rayotek Scientific, Inc. is a San Diego based company, founded in 1992 by a group of physicists and engineers with extensive experience in the semiconductor and nuclear industries. Rayotek was initially established as an R&D firm and over time has evolved into a full-service corporation.
Rayotek's mission is to provide its customers with a full-service facility that specializes in engineering -design and manufacture of precision sapphire, glass, fused quartz and fused silica products.
The experts at Rayotek are dedicated to providing creative solutions for the scientific and commercial industries. With a solid foundation of technical knowledge and creative experience, Rayotek has the ability to take customer's needs from the conceptual stage, through engineering-design, to final manufacture.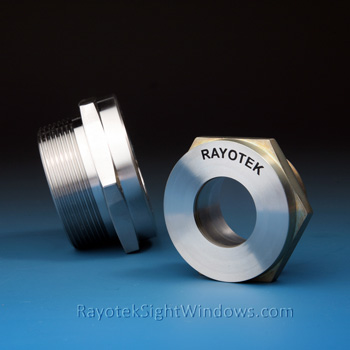 NPT Sight Glass Windows
NPT – ISO standard male tapered threaded sight glass
Exhibits no outgassing or contamination of most systems*
Long working life
No maintenance required
Tested to high safety factor to insure safety & reliability
Exceeds all industry and MIL standards
Engineered, Manufactured and tested at the Rayotek U.S. facility
Ultra-High Pressure (UHP) tested to 20,000PSI or higher available

NPT Sight Windows, made to ISO 7-1:1994 standards, are a low cost solution for viewing and observation ports for fluid, flame and gas viewing, indicators and sensors. Rayotek NPT Sight Windows utilize glass, sapphire and other transparent materials sealed into a corrosion resistant metal housing to create a hermetically sealed unibody Sight Glass.
Rayotek NPT Sight Windows are exceptionally robust in extreme thermal, chemical, mechanical and pressure environments. They also perform exceptionally in ultra-high vacuum, high purity, cleanroom rated systems.
Applications:
High pressure tanks
Liquid level view ports
Hydraulic level indicators
Flame & explosion observation ports for furnace, heater & hazardous systems
Supercritical & petroleum research systems
All classes of refrigerant systems, including CO2-based R744
Sanitary & FDA applications for pharmaceutical & food processing
Simple lighting windows for deep sea, ultra high pressure & vacuum systems

Rayotek Sight Windows can reliably meet and exceed the requirements of many applications from industrial to research. The selection of window, housing material and sealing method will help optimize the best sight window configuration for your application.
Request More Information