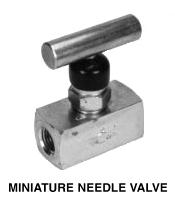 Marsh Bellofram Needle Valves
Marsh Bellofram Needle Valves
Marsh gives you a choice of six valve series for accurate regulation, control, and positive shutoff of gases or liquids up to 10,000 psi (70,000 kPa). Marsh Needle Valves are used in oil and gas production, chemical processing, hydraulic equipment, and anywhere a flow of liquids must be carefully regulated. All of Marsh's needle valves are bar-stock machined for rugged and reliable performance. Connection sizes range from 1/8", to 1" NPT in either globe or angle patterns.
When a bubble-tight shutoff is required, Marsh's soft seat needle valves in alloy steel or 316 stainless steel fulfill this specification. For high pressures or corrosive media, there are metal-to-metal seat needle valves in alloy steel and 316 stainless steel. If extra pressure outlets or a bypass is needed, try the Block/Bleed Terminal Needle Valves. And if the area for the valve opening is limited, Marsh offers a miniature needle valve line.
So for your flow regulation requirements, check out the full range of Marsh Needle Valves to meet your needs and specifications.