Pressure Safety Valve (PSV) Repair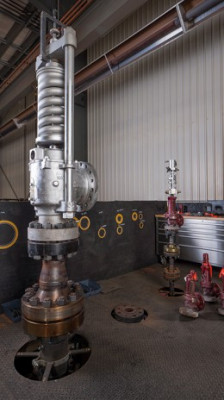 Kings Energy Services provides service, repairs, and testing for a wide variety of safety/relief valves and devices.
We will happily provide skilled valve servicing in-house or on-location (field servicing is only available for ANSI or API valves). To reduce downtime for producers, Kings Energy has an assortment of valves in stock for exchange and/or sale.

We also carry stock inventory, enabling quicker turn-around times and reduced customer costs.
Our experienced and technically trained staff are knowledgeable about appropriate industry codes, regulations, and manufacturer guidelines.
To maximize efficiency, we utilize an assembly-line operations system to service and repair relief valves.

The process goes through several stages in order to maintain a high-quality assurance program, and valve data is entered into our database at every station.
Receiving and Dismantling

Valves are given a visual inspection to record the received condition, identification numbers, make, model, and serial number, code stamps, set pressure, capacity, and any irregularities. After proper safety precautions are completed, a pre-test is performed and recorded.

The valve is then dismantled in accordance with the manufacturer's recommendations.

Reconditioning and Replacement of Parts

Components are inspected and measured to the standard specified by each manufacturer. Parts are either reconditioned to manufactured specifications or replaced using OEM manufactured parts.

Assembly and Testing

Special care is taken to properly assemble each valve using quality OEM manufactured parts. After assembly, each valve is tested to its appropriate PSI range; a final inspection is performed to re-confirm the valve data previously recorded, and the valve is sealed according to industry regulations.
Pressure Safety Valve (PSV) Repairs can be done on our in Red Deer, Drayton Valley, Provost, Grande Prairie, Dawson Creek and Cambridge, Ontario service facilities. We also have a fully mobile valve servicing unit that can come to your facility to provide servicing.